Fallen Trees in Your North Garland Home
9/10/2019 (Permalink)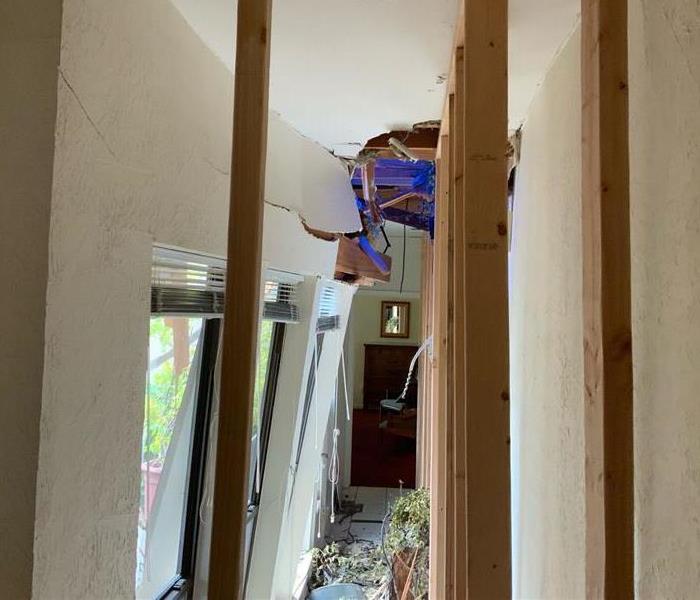 The aftermath of a storm can be scary, Let SERVPRO of North Garland do everything we can to make it easier on you.
For as inviting as the natural light can be to your North Garland home, grand window layouts can also present potential threats when your home encounters one of the many severe storm systems expected throughout the year. When trees get pushed over or split due to excessive winds, lightning, or other damages, these significant additions to your property can find their way to the windows you have installed and break them out. As alarming as this situation might be, the flooding that can result from this exposed portion of your home can become even more threatening.
There are many homes throughout the area and its smaller surrounding communities, so storm and flood damage in North Garland after a severe storm can affect many properties simultaneously. While there are many steps to recovering your home after substantial damages like this, you need a team of professionals that can arrive fast with the expertise to handle all phases of the job through its completion. Our SERVPRO team offers comprehensive support in flood damage situations to handle mitigation, assessments, reconstruction, and final restoration work that returns your damaged home to preloss condition.
Our professionals can arrive quickly with the equipment to begin extraction while our licensed contractors board up the areas broken out from the wind or falling trees. We can remove the tree or its limbs from against your home as well to further protect it from continued water damages. Once mitigation completes, our contacting division can step in immediately to repair and reconstruct damaged areas of your property.
The faster that our SERVPRO team can get notified of the situation the better able we are to protect your home against threats from flood effects. In the right circumstances, many of the saturated materials and affected areas can get fully restored without the need for further demolition and reconstruction.
It is essential to secure professional restoration services immediately when disasters like this strike, as you are rarely the only home in the area affected by the severe weather. Our SERVPRO of North Garland rapid response team can work to make flooding in your home "Like it never even happened." Give us a call at (972)-496-2441.